Surprise, bitch! I bet you expected a Mean Girls quote over here.
But nope, I have to disappoint you. I'm just randomly starting a blogentry I didn't even plan on writing.
So...yeah. This is going to be kind of an update since I haven't written anything in ages.
Where did the time go?
Well, easter has already passed...as well as my & my best friend's birhtdays...and craploads of other stuff. I even changed the layout of this blog again! Well, I'm not quite finished yet, but I need new photos before I can create a new banner.
So...prepare yourselves for a picture heavy post...this one's going to be more huge than I expected.
I felt like dressing up again...but I didn't have much time to take photos and I'm not really satisfied with the ones I have. But I kinda liked the outfit and the make-up I'm wearing (inspired by Marina and the Diamonds...somehow..the lashes, you know?)
Still not sure if I'm going to wear this exact coord at the J-day...but, let's see!
So, on the 26th April it was my bestie Julice's 18. birthday.
It was such a nice day! The weather was really good, we had a barbeque with her family and later went to have cocktails at the Me Lounge in Hameln with her sister and some of her friends.
Me that day.~ My hair is growing!
Looks yummy. And hell fucking yes, it was. And without alcohol because I can.
Before the clock turned midnight, I sadly had to leave. Thinking back to it, I really regret not staying there any longer, but well...now it's too late.
The next day, it was my birthday...the most horrible one I've ever had. I never cried that much on a birthday, I swear. I was so glad when the day was finally over, you guys can't imagine it.
I don't want to talk about what happened. It's none of other peoples businesses.
Only the evening was good, because I went to Anna and we talked a lot. I was so thankful to have her because she seriously made my day. :3
Oh, Caro came over as well to bring me some presents! I'm so glad that I have friends that wonderful. ♥
The muffins Anna has made for me ♥ They were so yummy!
Presents from Julice & Caro!
Julice got me this little keychain with a photo of us one one side and one of me and Ryo on the other side, ahihihi ♥
Present from my mom, along with some money.
One of my all time favourite books (The Melancholy Death of Oyster Boy & Other Stories by Tim Burton) and Pierce The Veil's "This Is A Wasteland" DVD which came with the "Collide With The Sky" album.
Me and my brother watched it the same day and fangirled so hard. I love PTV so much <33
I was also allowed to pick some stuff at sheinside for my birthday but the shirts I ordered haven't arrived yet.
My present from Ryo also arrived yesterday, but lazy me didn't take a pic of it, haha, sorry.
On thursday Anna came over and we decided to bake nutella filled muffins. Oh my gawd, I'm starting to get fat. And I mean reeeeaally fat! :'D
Yesterday was probably the must fun in a few weeks because I went to Hannover to meet Raoii. Well, first meet ups are always a little awkward for me and we ended up mostly just sitting around and talking about the most random shit. But it was so nice to finally meet her and I hope we can see each other again soon! Also, we went to an awesome asian restaurant and the food was perfect!
♥
Today was a rather usual day as I spent it at Julice's place and we watched Danisnotonfire & AmazingPhil videos and made pancakes. But not just casual pancakes, nope, we had incredibly british Delia Smith pancakes (and I had a major stomach ache afterwards)
(I ironically bought her a bottle of Robby Bubble for her birthday because she doesn't drink)
Yeah. Very romantic.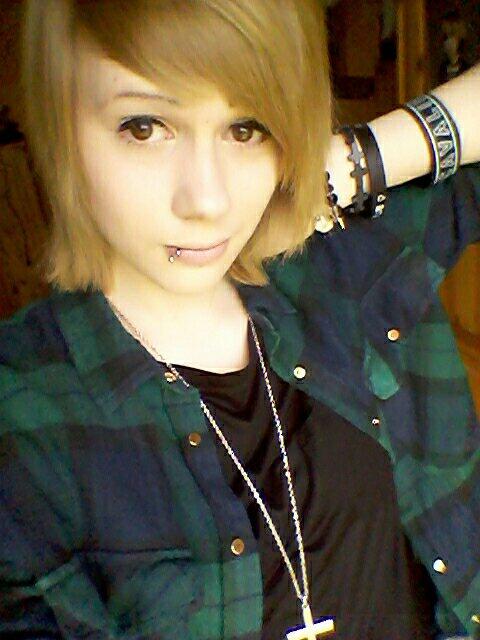 ...and me today!
That was basically the important events of the last weeks summed up in one entry which I horrificly failed due to the fact that I'm fucking tired and not really motivated to blog. But yeah...
My next post is going to be another Circle Lenses review. I promise that it'll be more interesting than this crap over here.
Mata ne!
PS: Mine and Julice's Best Friends Tag video is up, for those who haven't seen it yet.