Hey cuties!
Today's entry will be, once again, about a concert I went to.
But this time, not just a normal concert.
After half a year of waiting for this day to come, I finally saw Pierce The Veil and Sleeping With Sirens and had a Meet & Greet with both bands.
I just love Pierce The Veil so much, you have no idea. I might say this about a lot of bands (because I am a fangirl, duh), but really, their music is just perfect and these guys are so nice.
They're my one and only favourite band after all, so it was an amazing experience for me.
But let's start at the very beginning.
I woke up early in the morning on thursday, but mainly because my friend who I wanted to go to the concert with cancelled me.
After about half an hour of wanting to flip a table I finally decided to get ready before we went off to Hamburg at about 12:30,
I actually wanted to go earlier...but well...parents never understand.
At about 2pm we arrived at the venue.
Afer waiting for a few minutes Vic walked past us and said hello.
I didn't freak out at all, no. *laughs*
The VIP entry was at 5:30.
Actually it would've been half an hour earlier according to the website...but some things had to be changed since the support band, ISSUES, had to cancel their set due to some douchebag who stole their passports, Gladly they could sort things so they were able to play their show in Cologne the day after, but I was kinda upset. I really wanted to see them tbh.
After we got our VIP laminates for the entry, everything went by so fast.
One after the other we entered the venue and then queued and waited for our time to meet the band.
Personally, I was going crazy because I was sooo nervous.
But when it was time, my brother and I went in together and were welcomed by Sleeping With Sirens with open arms.
We hugged everyone, shortly talked to them and took out photo.
These guys are so nice!
Kellin might be a little diva, but he's also really funny and adorable. And Justin asked me for a hug for the photo which I thought was pretty cool.
He's such a dork!
We then went over to take our photo with Pierce The Veil.
The first one I met was Tony. Then Mike, Vic and the last one was Jaime.
Again I hugged everyone, shortly talked to them and took my photo.
What surprised me was the fact that I am A LOT smaller then Vic who is 168cm.
I'm such a gnome!
My heart was beating so fast. They all were so nice and friendly. Vic even asked me if I was excited.
And another funny thing, Mike said "See you in the pit" to my brother. Probably because he was wearing a Deez Nuts beanie? Who knows.
My personal favourite moment was when I got to hug Jaime. Of course I love all of them...but yeah...he's my favourite.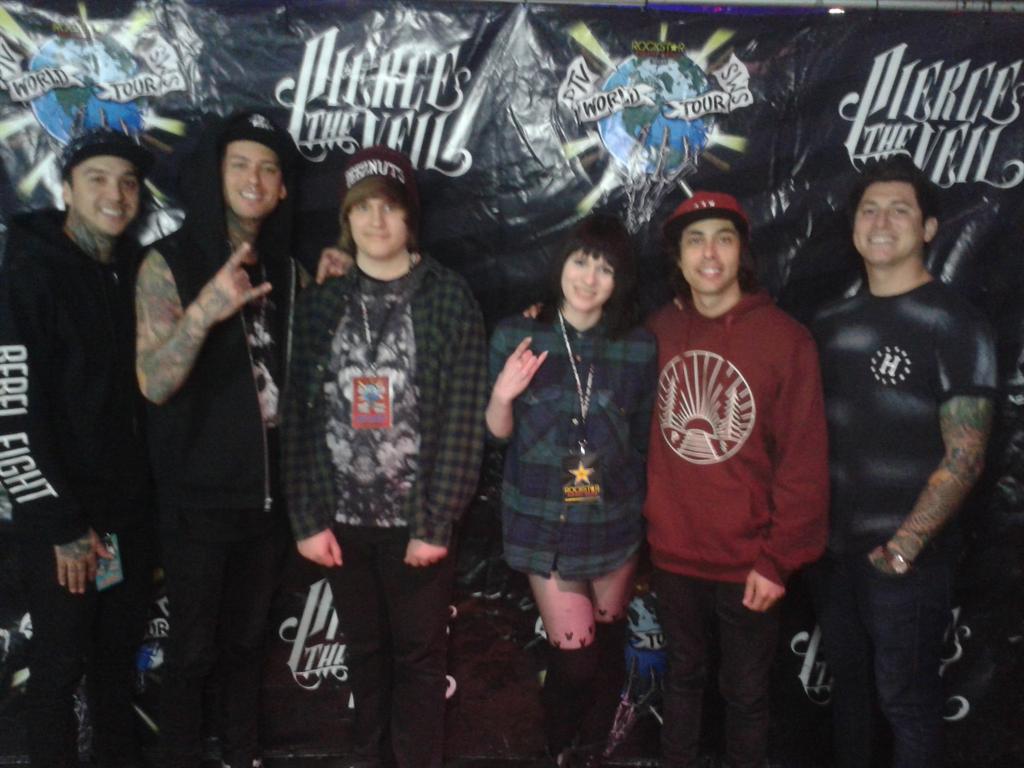 Cuties <3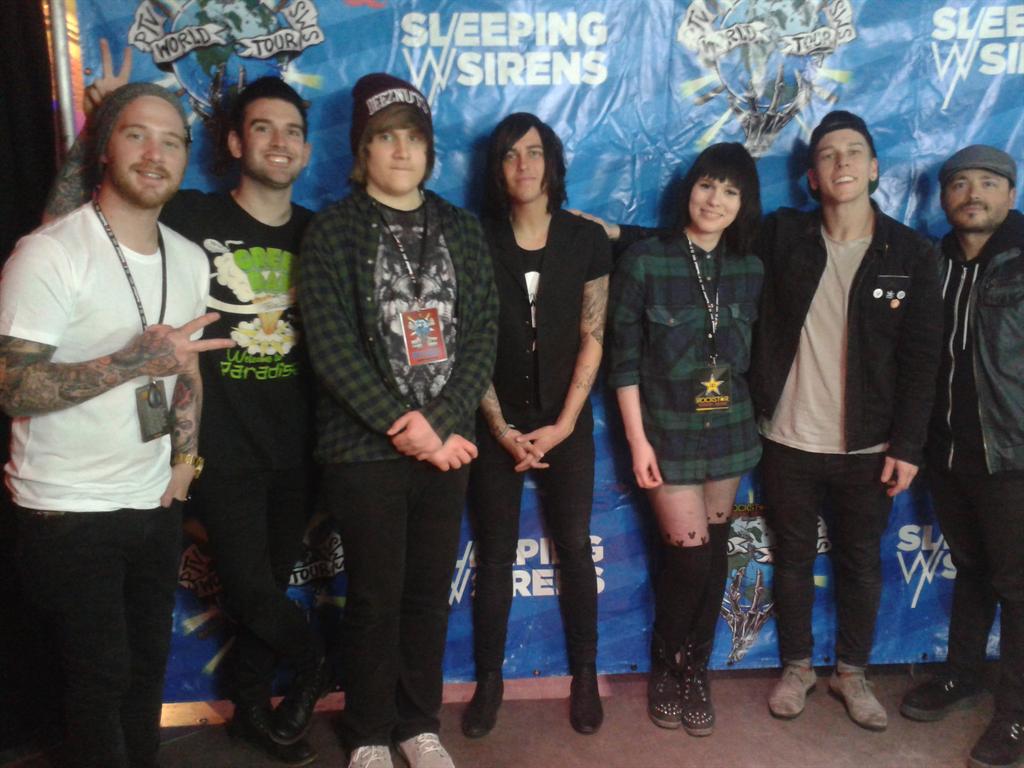 YES I AM WEARING PANTS OK
After leaving the meet & greet area a girl who was already done told me not to cry,...yet we were all screaming like little children. Although it went by so fast it was worth every goddamn cent.
Since we had earlier entry to the show, we had to wait a little until the concert started. I think it was about 1 1/2 hours or something.
To be honest, I forgot about the time while I was talking to 2 really nice girls I met their. I found out thet one of them was at the same Linkin Park and You Me At Six concerts as me.
We got along very well so the waiting time didn't seem as long.
At 8pm the show started. SWS were the first ones to play and already started off with one of their "heavier" songs. All in all I liked their setlist a lot!
1. Kick Me
2. Congratulations
3. Here We Go
4. Low
5. A Trophy Father's Trophy Son
6. Scene Two: Roger Rabbit
7. Iris (Goo Goo Dolls cover)
8. Go Go Go
9. We Like It Loud
10. If I'm James Dean, You're Audrey Hepburn
11. If You Can't Hang
I am not the biggest SWS fan, but I really liked the songs they played. Roger Rabbit and Iris were played as acoustic songs and the whole crowd sang along.
Kellin's voice sounded surprisingly good live. I didn't expect him to not sound like a dying cat to be honest.
Let's be honest, there are so many live videos in which he sounds like that.
But well, he didn't and that's a plus!
Their show was reeeally nice and I had a lot of fun already!
After their last song, the stage was prepared for PTV which took FOREVER.
As if I wasn't nervous enough already, no.
But since the door that leads backstage was at the balcony upstairs, we could see exactly when the members walked in and out. (Remember the Ashley-incident from my entry about the BVB concert? It was the same location....)
They started off, as always, with Hell Above (May These Noises Startle You In Your Sleep Tonight is just an intro)
Most of the songs they played were from the "Collide With The Sky" album and some of them fron "Selfish Machines"
Although the tour was meant as a promotion for their new album, they didn't play a single song out of it. They wanted to release it in "early 2015" but still...no news about it...sadly.
But ay, they played nearly all of my favourite songs!
1. May These Noises Startle You in Your Sleep Tonight
2. Hell Above
3. Bulls in the Bronx
4. Caraphernelia
5. Disasterology
6. I'm Low on Gas and You Need a Jacket (acoustic)
7. Hold On Till May
8. Props & Mayhem
9. Bulletproof Love
10. A Match Into Water
Encore:
11. King for a Day (with Kellin Quinn)
I nearly cried when they started playing "Hold On 'Till May". Somehow I managed to hold back my tears, but "A Match Into Water" was too much for my poor heart.
For "I'm Low On Gas And You Need a Jacket" everyone except Vic left the stage, And there he stood, that cute little gnome with a Gremlins shirt and the voice of an angel, alone with his acoustic guitar.
Do you know these moments at concerts when the singer suddenly stops singing and playing but the crowd alone continues the song?
It happened. And it was the best feeling ever.
What bothered me a little was that. because I stood at the front, I always had to watch out for people that went crowdsurfing.
And some people did that not only once, no. I had to carry the same girl about 3 times and it became kinda annoying after a while.
But well, front row problems, huh? :'D That's just what you have to deal with
Oh, did I mention that Kellin also went out to watch Vic's nice solo performance? No? But he did and it was hilarious how everyone freaked out.
Their last song was, to everyones surprise (sarcasm alert), "King For A Day", and our beloved diva Kellin came on stage again. Of course they played the song how it was meant to be played and it definitely was the best encore I've ever seen.
The concert ended as perfectly as it started and I couldn't be happier about it.
Fun thing: When they changed the background the wall behind the stage was showing and everyone suddenly started to laugh because they thought PTV were having a giant buddha statue as their background.
Blurry...but TONY!
Jaime!
Vic looks so sad in this one. And then there's Mike in the background.
Jaime, just being himself.
Their faces are priceless in this one...
But laaast night you said you ended up in Palm Springs dancing on tables...♪
The sadness hit me really hard when everything was over...but since I cought one of the picks Vic threw, I was too busy fangirling so that crying wasn't an option anymore.
Ahh, so sad that this days is already history now after I've waited for so long for it to come. But I will keep it in my memory forever. It was an amazing experience and I was finally able to meet my favourite band in person.
I filmed a few videos before and during the concert and I'll try to make a vlog out of it soon.
But for now, that's it.
Criticism or other comments are always appreciated!
See you~